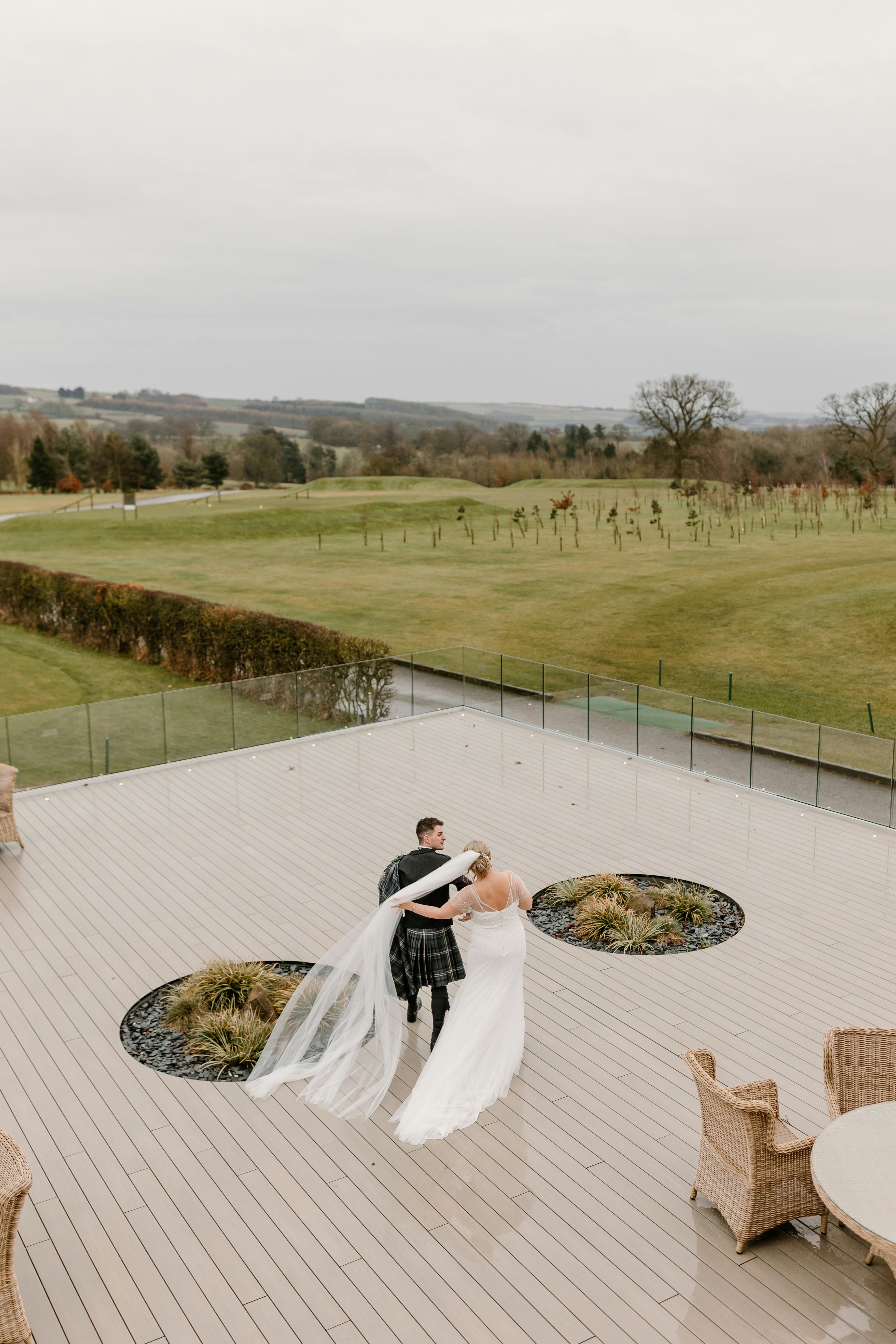 Image Source: Pexels
The Stone Tower Winery, located just outside Washington D.C, stands as a beacon of rustic charm and sophisticated elegance. The winery offers an unforgettable setting for your special day, with breathtaking views of the Bull Run Mountains and sprawling vineyards.
The Winery's Story
The Stone Tower Winery is not just a venue; it's a testament to the passion and dedication of those who bring its fine wines into existence. The vineyards and cellars are meticulously cared for, reflecting the pursuit of beauty and efficiency in the buildings where the wine matures until it's savored by wine lovers. A harmonious unity of place and people, where the product and its creators share a common goal of excellence.
Wedding Preparations at the Winery
Coordinating your Wedding
Every couple getting married at the winery is required to have a wedding coordinator. This ensures that your day runs smoothly, and that every detail is taken care of, leaving you free to enjoy your special day.
Decorations and Insurance
While the venue is open to your creative ideas, it must approve all decorations to ensure they align with the winery's aesthetic. Also, a general liability insurance is required for the event.
Food and Beverages
The venue offers a list of approved caterers and requires that alcohol be served by a licensed bartender or caterer. Amplified music is allowed both indoors and outdoors, but must end by 11:00PM.
Venue Spaces and Capacity
The Stone Tower Winery offers two main event spaces, each with its unique charm and style.
The Vineyard View Ballroom
With a capacity of up to 230 guests, the Vineyard View Ballroom is a perfect blend of elegance and rustic charm. Its stone accents and modern chandeliers offer a stunning backdrop, while the wall of windows opens up to sweeping views of the vineyard.
The Harvest Barn
The Harvest Barn, with its cozy ambiance, is a bi-level space that can accommodate up to 175 people for a full-service seated dinner. The downstairs area is perfect for cocktail receptions, while the upstairs provides a rustic setting for your wedding meal.
Wedding Services at the Winery
From the moment you arrive, the friendly and professional staff at the Stone Tower Winery ensure that you and your guests feel welcome and taken care of.
Bridal Suite and Event Rentals
The winery provides a bridal suite for you to relax and prepare for your big day. Event rentals, including chairs and tables, are also available.
Outside Vendors and Vendor Referrals
You are free to bring in outside vendors for your wedding. The winery also provides a list of preferred vendors, ensuring you have the best services for your special day. I would to capture timeless wedding photos for you.
Accessibility and Parking
The venue offers ample parking for your guests and is wheelchair accessible.
Catering Options
While the winery doesn't offer in-house catering, they are more than happy to provide a list of professional caterers who are known for their exceptional wedding day services.
Accommodations Near the Winery
Located in downtown Leesburg, the Stone Tower Winery is just minutes away from several hotel options. You can inquire about the best accommodations nearby to ensure your guests have a comfortable stay.
Stone Tower Winery: The Perfect Venue for Your Winery Wedding
With its rustic charm, sophisticated elegance, and breathtaking views, the Stone Tower Winery is the perfect venue for your wedding. Whether you're planning an intimate occasion or a grand affair, the dedicated staff at the winery can tailor your wedding celebration to reflect your unique taste and personality. Start your forever at Stone Tower, and create a breathtaking experience that truly reflects your love.
Whether it's the meticulously cared for vineyards, the meticulously equipped cellars, the stunning event spaces, or the dedicated staff, every aspect of the Stone Tower Winery is designed to provide you with an unforgettable winery wedding. So why wait? Start planning your dream wedding at the Stone Tower Winery today!